My latest Book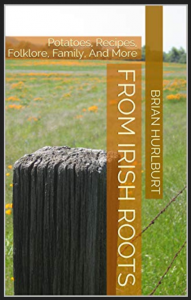 What do You think of when You think of Ireland?
For Me it's Potatoes, Recipes, Folklore, Family, and More!
I think it is so for all of us who grow
From Irish Roots
This Book is not a Textbook, it is written more for enjoyment, than research,
but it does have everything from
Information on Potatoes, and Recipes, to Folklore, Family, and More!
I enjoyed writing it, and I believe You'll enjoy it to!
---
Growing Your Family Tree
"Sorting the Wheat from the Chaff"
By Brian Hurlburt, Authour
Now Available as Paperback or Kindle Edition
Click Here Now
This Book is full of Resources and Tools I use nearly everyday in my own Research.
---
Books by Other Authours…
This Book, Yarmouth, Nova Scotia: A Sequel to Campbell's History, originally written by George Stayley Brown as a Sequel to Campbell's History, was crucial to my early research, has entered the Public Domain in some areas, and is beautifully bound here in Hard Cover. A Great Resource, especially for those with Ancestors in Yarmouth, NS.
Terry Punch was long known as
Nova Scotia's Genealogist.
When We lost a treasure the day Terry died.
Thankfully He left us a number of excellent Books.
Obit: Obit: Terrence Michael Punch (15 January , 1937 – 11 April , 2017)
Click Here for More Books by Terrence Punch
There are a number of other Books pertaining to Nova Scotia
Click Here to View Them Now